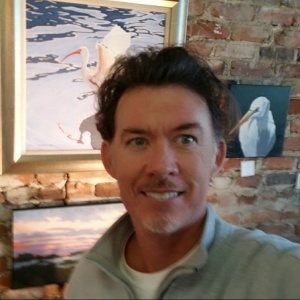 Contact Addison Palmer
Phone or Text:
(912)258 – 4167
Email:
addisonpalmer@yahoo.com
James Addison Palmer III
James Addison Palmer III was born in Savannah, GA, in August of 1970. Addison has spent most of his life on Hilton Head Island, S.C.
From an early age, Addison has been drawing and painting the world around him. Addison comes from a strong artistic background. His Great Grandfather was an pen and ink artist in New York. He focused on doing portraits for newspapers from around the world. His father, Jim Palmer a long time landscape painter and his uncle, Walter Palmer a sculptor.
Addison graduated high school from Hilton Head High School in 1989. After graduating he attended Brevard College on a full scholarship in the arts but also as a stand out distance runner, where he had an Olympic standard time in the marathon.
After graduating from Brevard, Addison moved to St. Simons Island, GA where he opened his own art gallery in 1994.Since the age of thirteen, Addison has been painting full time, doing commissions, shows, and work for galleries. From day one he has painted the world around him in his landscapes, seascapes, wildlife and portraits. His work has many private and business collectors from the U.S.A. to around the world.
Along with his painting, Addison is asked to teach painting work shops through out the eastern United States and is invited to teach painting classes, and to demonstrate his work on world cruises like Cunard, and Seabourn.
Addison's original work can be seen in galleries like the Red Piano Art Gallery on Hilton Head Island, S.C. The Sheldon Fine Art Gallery in Naples, Fl and in Newport, RI, The Sylvan Art Gallery in Charleston, S.C. Spa Fine Art Gallery, Saratoga Springs, N.Y. , Art on Centre, Amelia Island, FL, and his own gallery, The Palmer Gallery, St. Simons Island, GA