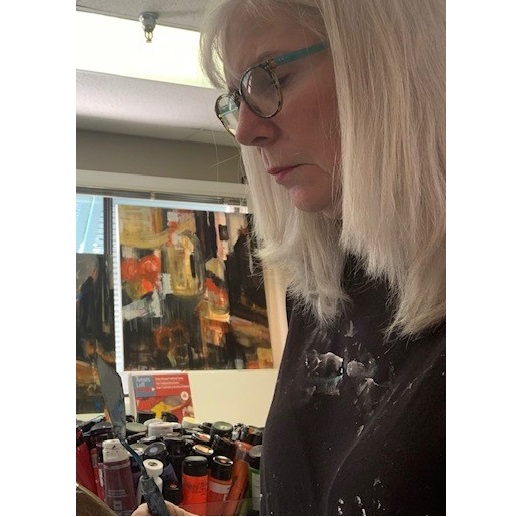 Pat McGreevey
PATRICIA L. "PAT" MCGREEVEY is a multi-media artist. Her artistic journey began as a young High School art student having won a prestigious Scholastic Key Award for her early work in macrame, clay and rug design. As current her focus is oriented toward richly diverse paint mixed-media employing acrylic, ink, cold wax and oil. Her art is characterized by vibrant color combinations, contrasting shapes, deep dimension and spans the full spectrum from traditional to the abstract.
Pat enjoys working intuitively employing brush, scraper, palette knife, her hands and anything else she can think of using. She is inspired by the creative process and the idea of creating something from nothing. "I want to create art that people love. Art that is thought provoking and evokes emotions. Art moves us in multiple directions, having it around us continually generates those emotions."
Pat is forever grateful, having been blessed with the encouraging and never ending support from family, friends and private collectors. She and her husband live on Hilton Head Island, South Carolina. You'll find her most days in her studio unless she's on a pickleball court.
Shows/Galleries:
2023 Featured Artist, The Art League of Hilton Head, HHI, SC
2022 Fabulous Fakes, The Art League of Hilton Head, HHI, SC
Ongoing:
The Art League of Hilton Head Gallery, HHI, SC
The Artists of Sea Pines Gallery, HHI, SC
Publications:
2022-2023 Hilton Head Island Symphony Orchestra Program Book, "Harmony"