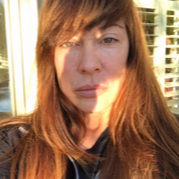 Ryan McGivern
RYAN MCGIVERN was born and raised in New York City and has been a professional studio artist with a focus on ceramics and glass since 1992.  She studied sculptural ceramics and hot cast glass at New York University with Dr. Judith Schwartz and Mark Ferguson. Finishing her undergrad degree, Ryan moved to Santa Cruz, CA to work with local glass artists. In 1999, she returned to NYU for her graduate degree in studio art; glassblowing, sand casting, and sculptural ceramics.  She instructed beginning glassblowing, worked as the tour director and assistant to the education director at Urban Glass, Brooklyn. Additionally, she studied at Pilchuck, Corning Glass Museum, Urban Glass, and assisted glassblowers at Wheaton Glass in NJ. From 2000 to 2016, she worked as a visual arts instructor and exhibiting artist at Snug Harbor Cultural Center, Urban Glass, The Art Lab, Historic Richmond Town Museum, Staten Island Museum, SI Children's Museum, Sun Dog Theatre, The Studio 150, FireWorkSI, UFT, and The Noble Museum. Ryan served on the board at Staten Island Arts (COAHSI) and on the SIA grants review board.  In addition to teaching, Ryan owned and operated two art galleries on Staten Island, The Studio 150 and FireWorkSI. Along with making and selling her own work, her galleries promoted visual, performance, and musical talent from the tri-state area.
Ryan's blown glass and mosaic art can be found in private and public collections around the US and Canada, including the mosaic "Seven Sisters", located at the NYU Meyers School of Nursing. Her work has also been part of notable auctions at The National Liberty Museum, PA, The Urban Glass Blowers Ball, FDNY Captains Table, The Newark Museum, The Noble Museum, SI Museum, and The ArtLab. Her work has been included in local publications and television as well as the "International Glass Artists" book by Richard Yelle.
Ryan is teaching mosaic art at the academy Art League of Hilton Head, SC. Ryan's 2021 series, "Mosaic Sketches HHI", focused on the integration of stone, marble, and glass in a three-dimensional construction. During the summer of '21, she began creating mosaic art with cut copper and agate.