Hilton Head Island has a rich and storied history of being built from the ground up by a small and devoted group of individuals. Similarly, the Art League of Hilton Head was developed by a few individuals out of a love of art and a desire to have a place for artists at all levels of expertise, to exhibit, inspire, inform, and instruct in a beautiful art gallery and teaching academy setting.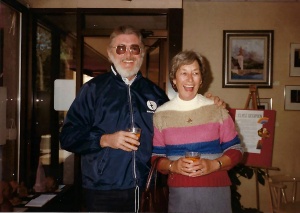 Artist Walter Greer, Art League Gallery's namesake and visionary founder, gathered a group of nine people in 1971 at the Red Piano Gallery to discuss forming an art league on Hilton Head Island. With a desire to present their idea to as large a group as possible, they scheduled a program in conjunction with an exhibit of Walter's paintings in March of 1972 at the Hilton Head Inn. About 30 people showed up and elected Gretchen Ramsey as president. And the Art League of Hilton Head was born.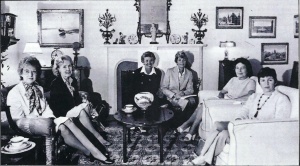 The first "official" meeting was held on May 24, 1972. In the spring of 1973, the first Members Show of the new Art League was held outdoors at Harbour Town and was very well received by the community. By 1976, membership had grown to over 300 people and in 1979, the organization proudly sponsored its first workshop – a 3-day watercolor course.
The 10th Anniversary of the Art League of Hilton Head was celebrated at the Members Show in October of 1982. Artwork was displayed at the Tatler Gallery and a party was held outdoors at the Market Place with 400-500 people attending to celebrate the organization's success.
In March 1984, Art League opened its first gallery in an 800 sq. ft. store front next to Forsythe Jewelers in Sea Pines. Island developer Joe Fraser generously donated $1,500 to get the Art League's space started. The first newsletter, the Articulate, was mailed out in April 1984 and on May 16, 1984 the new Art League Center became official with a ribbon cutting ceremony and an outdoor reception.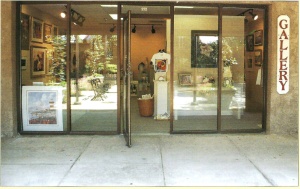 In addition to exhibitions, the center featured demonstrations and talks. Workshops were sponsored and held by Art League starting in 1985, and the children's workshops began the next year. Many other exciting events took place over the next several years including the start of the "mini shows" of featured artists, the first "Arts and Flowers Show", the "Fabulous Fakes" and the first "Juried Show."
In April 1991, Art League Studio, a teaching space for Art League classes and workshops, opened in the DeVries Building on Palmetto Bay Road. In addition to workshops, the Studio also sponsored a lecture series.
The 20th anniversary celebration of Art League of Hilton Head, with a membership of over 500, was held at the Westin in November 1992. Art League Studio moved from the DeVries building to the Sea Pines Plantation Center in March of 1993 where workshops would be held from October through March. That year, the Members Show was held  at the newly opened "Art League Gallery Too" in the Market Place on Palmetto Bay Road. And in January of 1994, the Art League Gallery was moved to a new location in the Sea Pines Center.
The Self Family Arts Center (now Arts Center of Coastal Carolina) opened in March 1996 with the dedication of the Walter Greer Gallery and an art exhibit of Art League member artists.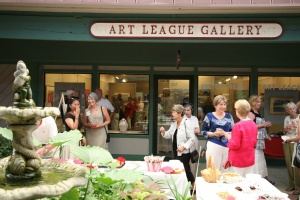 In 2000, the Art Gallery again relocated, this time to the northern end of the island at Pineland Station, kicking off its expansion with a week-long series of events. By January 2002, a new website was launched. Later that year, Art League of Hilton Head celebrated its 30th anniversary with a party at the Country Club of Hilton Head.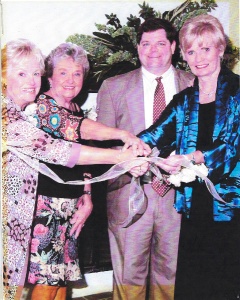 In 2003, Art League opened the Art Academy on Cordillo Parkway offering 23 classes in its first semester. And in 2010, Art League moved its headquarters and Art Gallery mid-island, to the Arts Center of Coastal Carolina, our current location in 2021.
Over the past 50 years, Art League has emerged as the Lowcountry's premier regional visual arts organization. Art League's state-of-the-art Art Gallery and teaching Academy bring thousands of residents and visitors together through dynamic programs including cutting edge exhibitions, professional art classes, workshops with nationally recognized instructors, higher education scholarship opportunities, guest lectures, artist receptions, gallery walks, live art demonstrations, special events, and valuable local collaborations.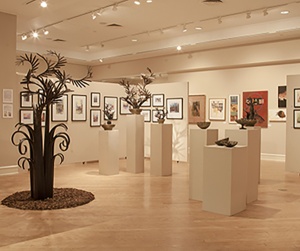 Today, celebrating our 50th Anniversary and with a membership nearing 500, Art League of Hilton Head contributes to the vibrance of island life with an array of programs, art exhibitions, and workshops with nationally recognized art instructors, maintains multiple satellite off-site galleries, and hosts popular special events for artists, art lovers and visitors around the world.